Princess Eugenie & Jack Brooksbank Present Their New Born Son August Philip Hawke Brooksbank
LONDON, UNITED KINGDOM - FEBRUARY 20: (NO SALES, NEWS EDITORIAL USE ONLY. NO COMMERCIAL USE. NO MERCHANDISING, ADVERTISING, SOUVENIRS, MEMORABILIA or COLOURABLY SIMILAR. NOT FOR USE WITHOUT PRIOR PERMISSION FROM BUCKINGHAM PALACE. This photograph is provided to you strictly on condition that you will make no charge for the supply, release or publication of it and that these conditions and restrictions will apply (and that you will pass these on) to any organisation to whom you supply it. There shall be no commercial use whatsoever of the photographs (including by way of example only) any use in merchandising, advertising or any other non-news editorial use. The photographs must not be digitally enhanced, manipulated or modified in any manner or form. All other requests for use should be directed to the Press Office at Buckingham Palace in writing) In this undated image released by Princess Eugenie and Mr Jack Brooksbank) This undated handout photo issued by Buckingham Palace on February 20, 2021 shows Princess Eugenie and Jack Brooksbank with their son August Philip Hawke Brooksbank. The boy was born at The Portland Hospital in central London on Tuesday February 9. (Photo by Princess Eugenie and Jack Brooksbank via Getty Images)NOTE TO EDITORS: This handout photo may only be used in for editorial reporting purposes for the contemporaneous illustration of events, things or the people in the image or facts mentioned in the caption. Reuse of the picture may require further permission from the copyright holder.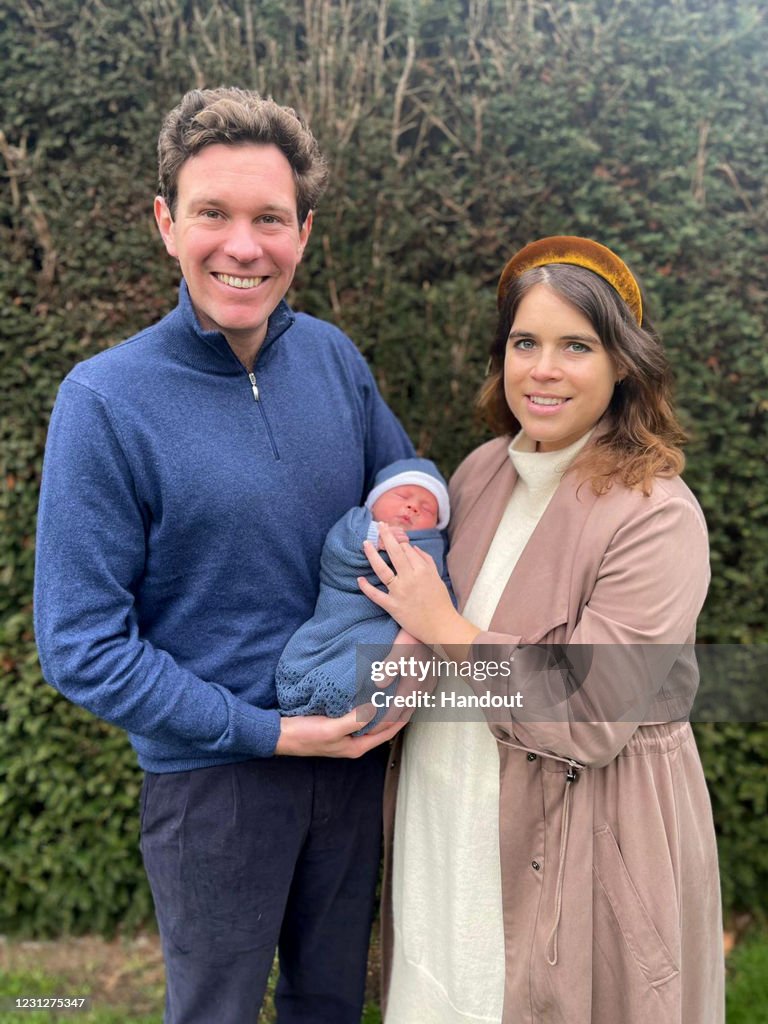 DETAILS
Restrictions:
Contact your local office for all commercial or promotional uses.
NO SALES. NEWS EDITORIAL USE ONLY. NO COMMERCIAL USE. NO MERCHANDISING, ADVERTISING, SOUVENIRS, MEMORABILIA or COLOURABLY SIMILAR. NOT FOR USE WITHOUT PRIOR PERMISSION FROM BUCKINGHAM PALACE. This photograph is provided to you strictly on condition that you will make no charge for the supply, release or publication of it and that these conditions and restrictions will apply (and that you will pass these on) to any organisation to whom you supply it. There shall be no commercial use whatsoever of the photographs (including by way of example only) any use in merchandising, advertising or any other non-news editorial use. The photographs must not be digitally enhanced, manipulated or modified in any manner or form. All other requests for use should be directed to the Press Office at Buckingham Palace in writing)
Collection:
Getty Images Publicity
Date created:
20 February, 2021
Max file size:
3000 x 4000 px (25.40 x 33.87 cm) - 300 dpi - 4 MB